Welcome to the "Silksheen Sunset" artwork page, click on GALLERY above to go back to the gallery page, or back arrow to back to where you came from...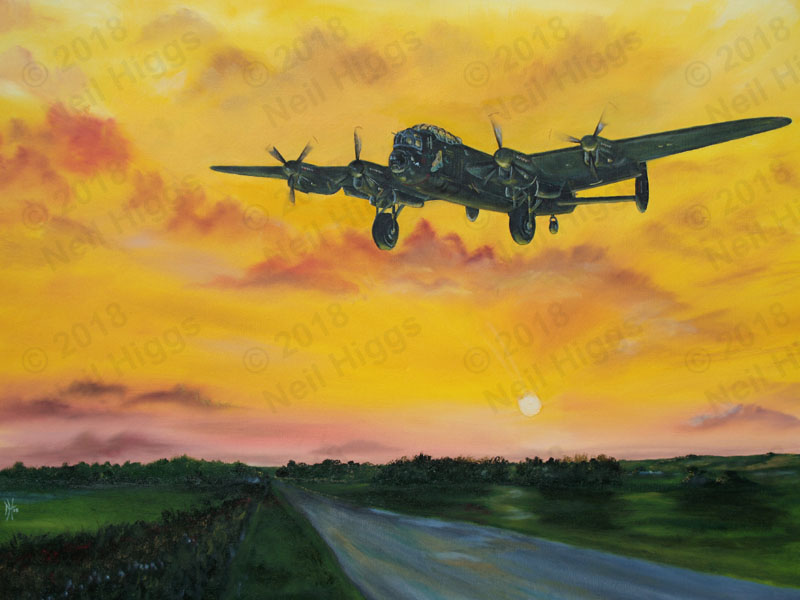 The painting depicts Avro Lancaster B-X "Just Jane" landing back at East Kirkby (her home) after a late afternoon test flight following her return to flight. This is what it`s hoped will happen with the U.K`s second running Lancaster (the other being the Battle of Britain Memorial Flight aircraft based at nearby RAF Coningsby).
The painting name originates from the code name of RAF East Kirkby being "Silksheen". RAF East Kirkby opened on the 20th August 1943 as a RAF bomber command station. Soon after opening two squadron`s were based, these being:

No 57 squadron, 5 group RAF, squadron code DX <27th August 1943 - 25th November 1945>
No 630 squadron, 5 group RAF, squadron code LE <15th November 1943 - 18th July 1945>
"Just Jane" has the markings of both squadrons on either side of her fuselarge. 630 squadron has long since disbanded, but 57 squadron lives on as an RAF training squadron flying Grob Tutors and Prefects at RAF Cranwell, Lincs.

The painting was completed in oils on a 1000mm x 750mm stretch deep edge canvas. It was auctioned throughout the 2015 airshow season at various events in Essex, Cambridgeshire, Suffolk and Lincolnshire.

The Lincolnshire Aviation Heritage Centre at East Kirkby is a very interesting museum with lots of information on Bomber Command, the men (and women) who were stationed at RAF East Kirkby and a number of wrecks. If you want more information on the LAHC, check out their website: https://www.lincsaviation.co.uk/

A3 size prints have been made available in a limited run of 200, each are signed by the artist and has logos and the nose art worn by the Lancaster. The price of the print is £15 each, price does not include mount, frame or postage. This is what the print looks like:




If you would like a print, please email Neil via the following.